Located in Toledo, serving Sylvania, Perrysburg, Oregon, Northwood, Rossford, Maumee and White House. Lambertville and Temperance, MI and all the surrounding areas of Toledo.
Any building project requires excavation. From pools to driveways and parking lots to basements, at 3rd Terrain Ltd. we are committed to providing the best service for all of our Toledo clients, with proven work methods. Residential or commercial, large or small, there's no project we'll turn down. And, with competitive rates as well as time-efficient practices, our clients know they can count on us to get jobs done up to the highest standards, within budget, by deadline. As a full-service company, we also offer concrete breaking and removal. So, when you're looking for an excavation team that does it all, give 3rd Terrain Ltd. a call.
WHY CHOOSE 3RD TERRAIN?
Being experts, means that we are committed to every project. With over 20 years of experience in our field, our Craftsmen are exceptional Heavy Equipment Operators. We get the job done right at affordable prices. 
Professional Crew
At 3RD TERRAIN, we believe in safety first. Our crew members are trained in OSHA Standards and Compliance.
Certified Experience
With over 20 years of experience in our field. Your search is over, we will get the job done right. Contact use today for a Free Estimate!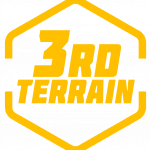 Competitive Prices
Whether it is Cost Based, Value Based or Competitive Based prices. Our aim is to get the job done within your budget.
Advanced Tools
With cutting edge technology like our Self Leveling Laser and GPS equipped equipment, we provide Absolute Precise Accuracy.
OUR SERVICES
We are proud to present our hard working team that provides these services.
WE ARE THE PROFESSIONALS
For all your Excavation, Demolition, Grading, Yard Leveling, Drainage, Site Preparation, Foundation, Footings, Pools, Pond etc. Give us a call, free Estimates available.
GET A QUOTE
Have a new project? A member of our team can come out and give an Estimate.
TRUSTED AND RELIABLE
At 3RD TERRAIN, Accountability means everything. Our team of experts are dedicated to getting the job done on time.